Well, it happens every time, doesn't it? You start off strong, make plenty of progress, and then house renovations go wrong. If you're lucky, you only have one or two minor setbacks. Unfortunately for us, it feels like the big hits just keep on coming.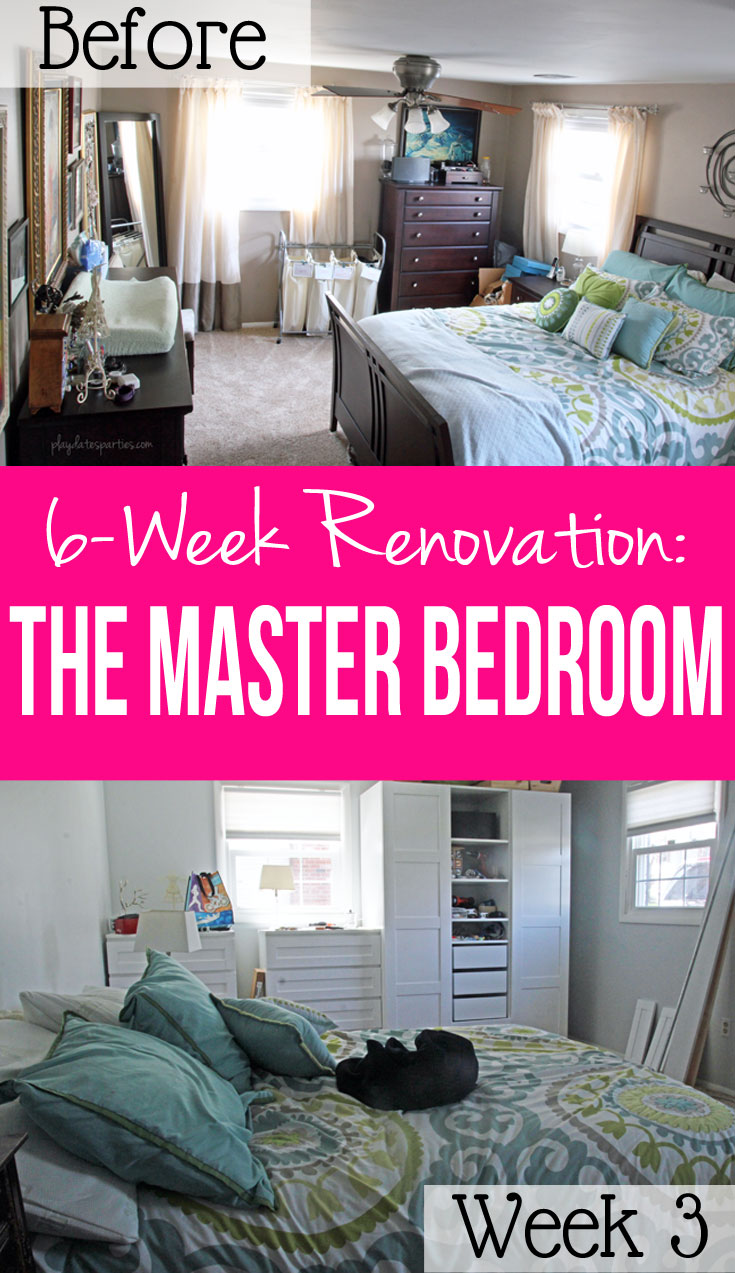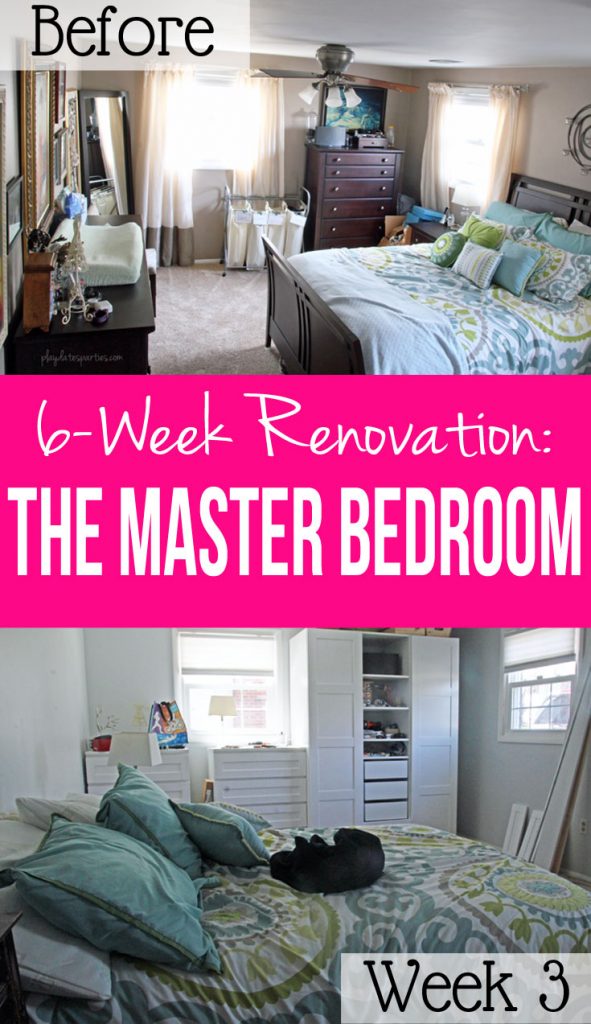 It's time for the Week 3 update of our master bedroom renovation for Calling it Home's One Room Challenge. In week one, I shared our design plan and the before pictures. In week 2, our bedroom got a fresh coat of paint, and some new storage cabinets. This week, we got a lot of headaches.
Most of the work went to customizing our new storage wall, though it might be hard to spot the differences. Take a look for yourself…do you see what's new?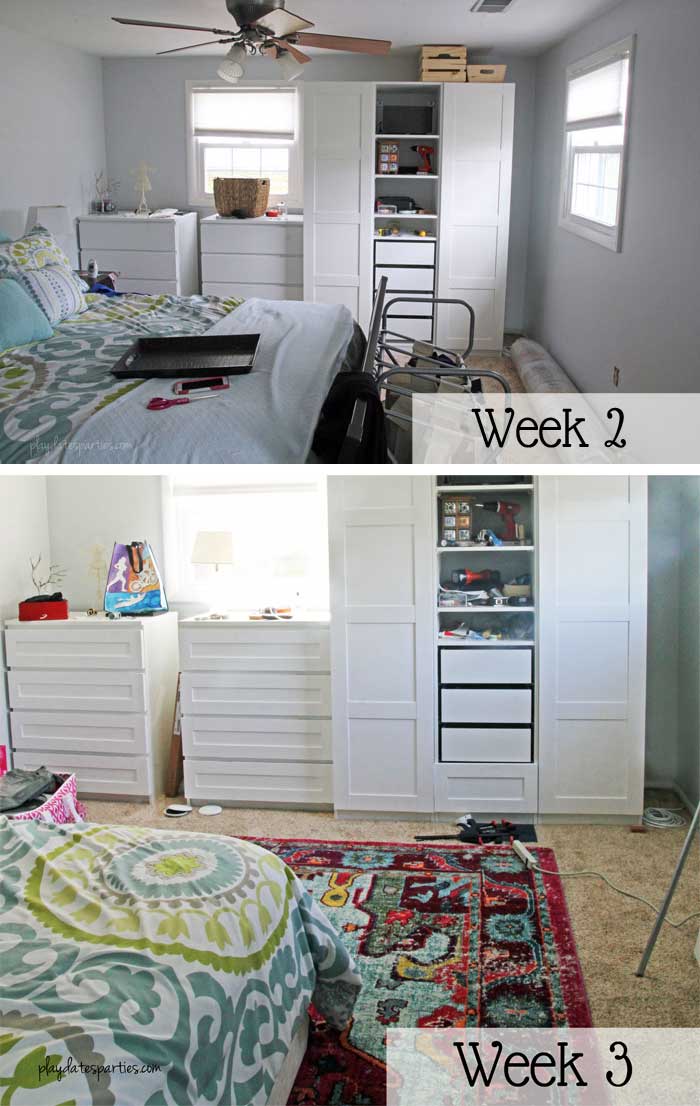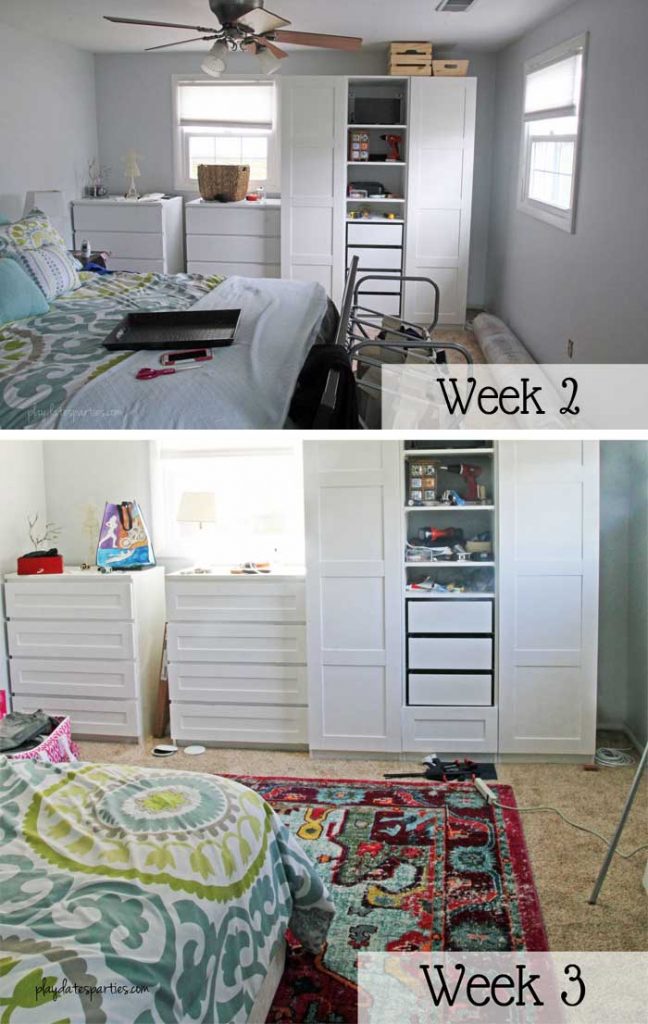 The Pax doors got a paint job, and I still need to add a unit between the two Malm dressers to make the system go nearly wall-to-wall. But the dresser drawers all got new faces! It was a totally custom job, in order to match the drawer fronts I'm handmaking for the Ikea Pax system.
Those drawers have been nothing but problematic since I started them, but I'm in love with the design, so they're staying put. All the painstaking details will be shared when everything is finally up. For, now though, I'll just say that the small drawer front you see attached in the picture is no longer on there. That, and the three others all need to be reworked. How's that for frustrating?
As if the drawers weren't causing enough headaches, I had to rethink my plan for the pocket mirror that is going in the open space next to the tall cabinets. After agonizing for a week before finally ordering barn door hardware for the mirror, it turns out that I won't be using that hardware at all. I failed to consider that our walls would require a header board above the window. And that board would interfere with the curtain hardware. So there's another complete redesign that needs to happen.
When house renovations go wrong, that means that a few projects are on the chopping block. For now, we're crossing off any work in the closet. It breaks my heart to give up on the shoe wall installation, but there are other things that need to take priority.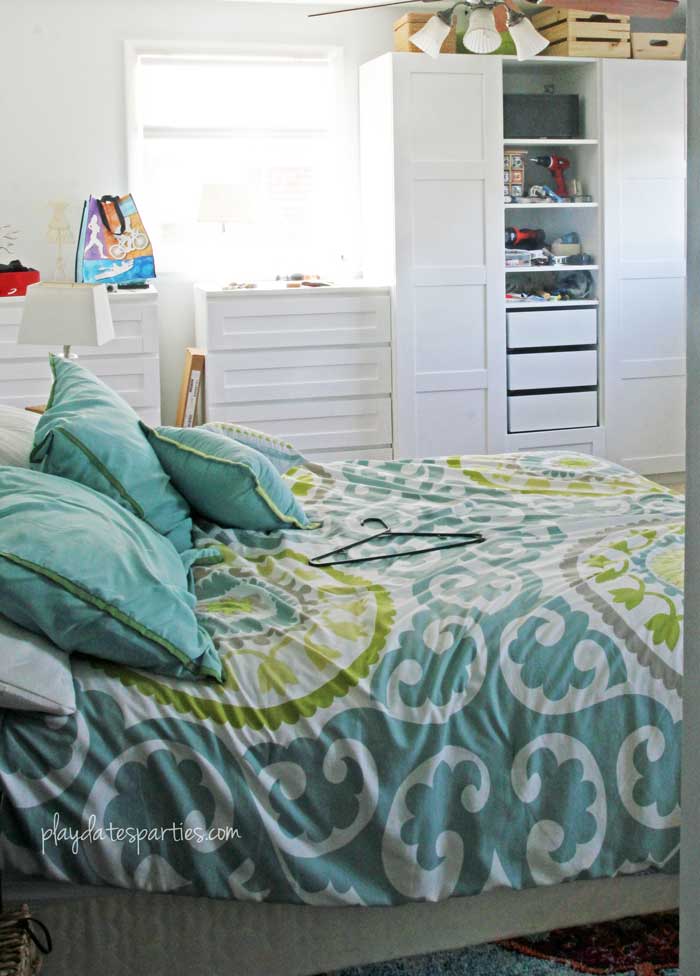 But there is good news!
The Husband and I are reliving our college days, sleeping on no more than a mattress and boxspring. Our old bedframe and nightstands were donated to charity this week to make room for a new king-size bed! With three kids that like to pile into bed with us, this additional space will be so welcome.
Our new rug is down already, too. I wish I had a good picture of it. The colors are bright, cheerful, and very current. And we love that the pattern is more on the traditional side. We hope that it can be used for many years to come.
In another cheerful note, I decided to go ahead and finish a little project just for myself: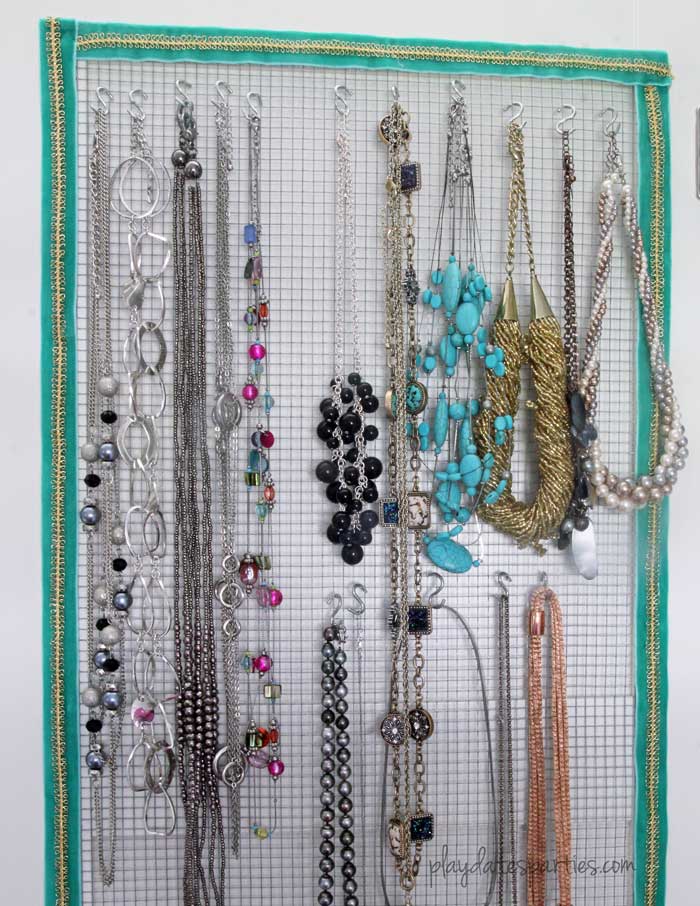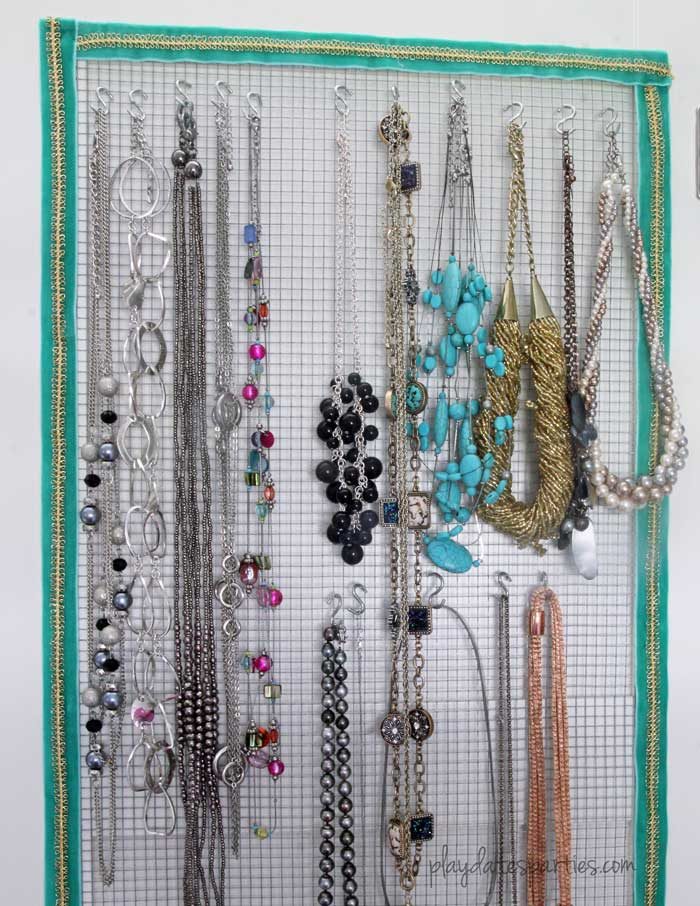 …details coming soon!
Here's hoping that over the next week the hits stop coming, and I can show you a mostly finished storage wall, and an awesome new bed!
HERE'S A RECAP OF OUR TO-DO LIST:
Paint Room
Install new closet wall (still working on it)
Paint trim
New bed & linens (ordered!)
Make curtains & update curtain hardware (started)
Install accent wall
Paint closet (sadly, not happening)
Install shoe shelves in closet (also not happening)
Install pocket mirror (started, needs rework)
Make or purchase covers for chairs
Frame accent above bed
Find or make nightstands (ordered)
Figure out space for laundry
Have you ever been frustrated by renovation projects?
Tell us a story of when you experienced your own house renovations go wrong!
See the Entire Renovation:
---
---
I want to extend many thanks to the readers who have enjoyed renovation and home DIY posts over the years. Unfortunately, in January 2018 I was diagnosed with Stage II breast cancer and had to stop doing home renovation posts due to treatment.
Since that time, my focus has been on making this website an amazing resource for the everyday mom's parties. Due to their popularity, the DIY posts and tutorials will remain on the website, but comments are now closed. Thank you again and I wish you the best in your DIY endeavors!