Over and over again, it seems like I keep bemoaning my lack of time management. After having now designed, planned and put together 10 parties in 9 months, the real problem has become clear to me: letting go. Whether it's having to do everything myself, creating too many projects, or cooking complex foods – I just can't seem to let go of any of it.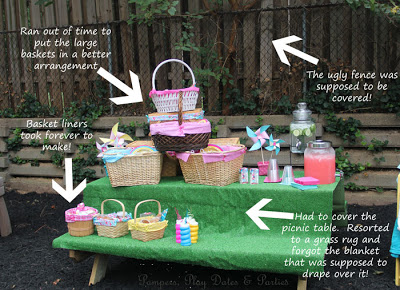 I often start off with a list of projects and recipes, and then have to guesstimate how long it will take to complete everything. The biggest killer of my time with the little one's party was creating coordinating liners for every single picnic basket. Seriously, it took nearly two weeks to line eight large picnic baskets and five small baskets (if you're looking at the pictures wondering where the extra baskets are, we had one family cancel at the last minute). Once that project took so long, I did end up letting go of a couple projects, but should have scrapped something else like the printables. Clearly, I didn't do that.
There are only three parties left to finish out this year, and I'm hoping that by the end, I can figure out exactly how much I can really manage!
Oh, and that other sticking point called a budget…what's that?