I learned how to make this easy roasted asparagus recipe from a caterer, and it was an instant hit. With only a few ingredients, it's fast to make & delicious.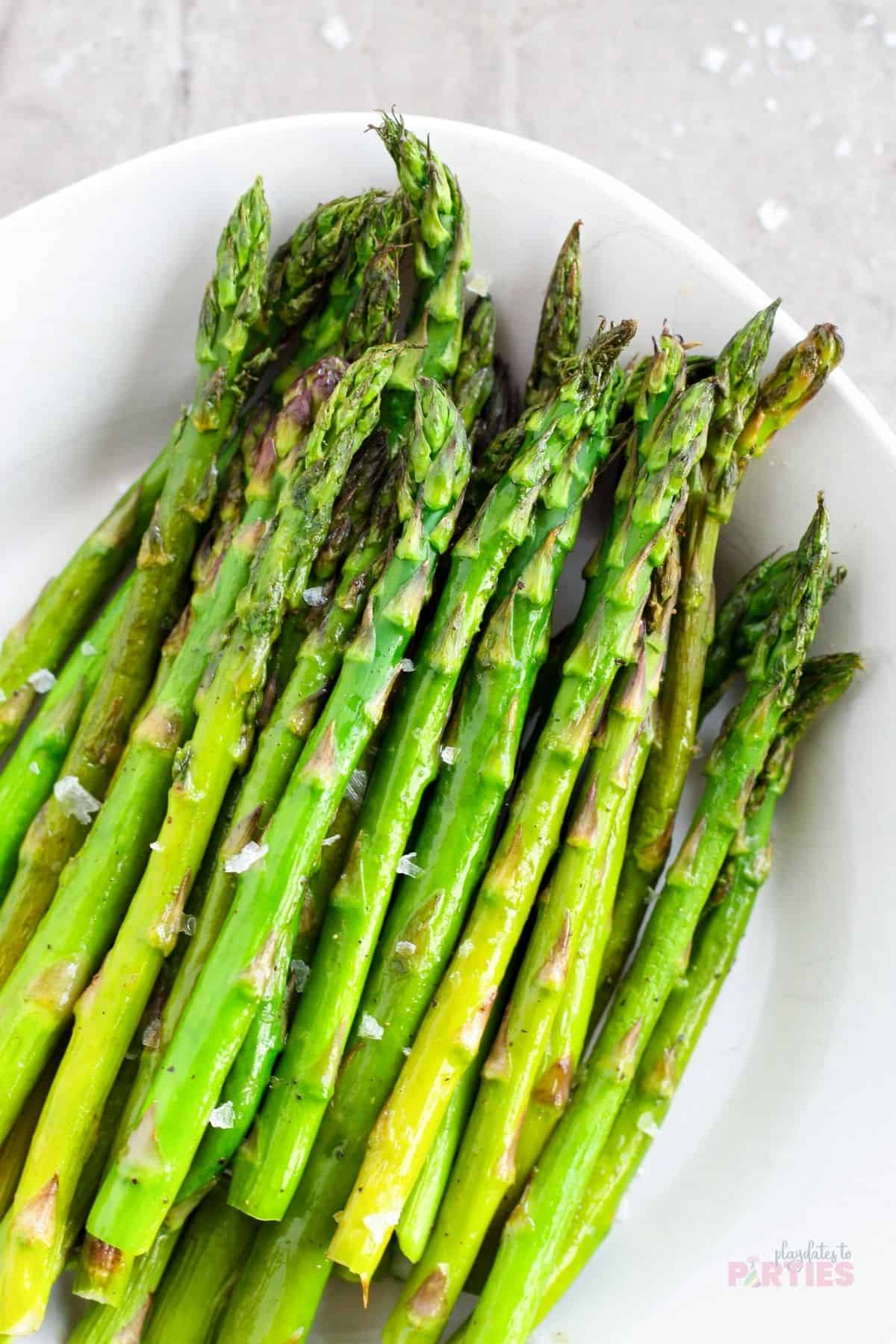 I can still remember the first time I fell in love with asparagus.
I was in high school and my stepmother plated it up with whatever other delicious foods she was serving that evening.
Speaking of my stepmother, it's no wonder she ran such a successful catering business for over 20 years. She's one of those magical people that can look into a refrigerator full of random items and come back an hour or so later with a gourmet meal.
I have some magical cooking moments too, but I really owe it all to her.
Anyway, my younger days weren't filled with a very wide variety of foods (sorry, Dad). The sight of asparagus initially made my nose turn up.
And then I took a bite.
It was heavenly.
Ever since then, asparagus has become one of my favorite vegetables to have. The best part is that it's so easy.
All you need to do is trim the ends, drizzle with olive oil, and season it to taste. But it was that night nearly 20 years ago (ack!) that I learned the true secret to delicious asparagus…Montreal Steak seasoning.
If you haven't tried Montreal Steak Seasoning before, you should definitely go get some on your next shopping trip. It's basically the perfect blend of the most delicious seasonings: salt, pepper, and garlic.
If you like your food seasoned, but not spicy, you can use just a little bit. Or if you like your food with a bit of kick, just add a bit more. Rarely has this spice ever done me wrong.
Over the years, I learned that finishing off the asparagus with a squirt of fresh lemon juice right before serving adds a bit of brightness, and really takes this roasted asparagus recipe over the top.
Trust me, even my pickiest of eaters will finish off her vegetables when I serve this easy side dish. Thankfully, it looks like all my kids are learning to love this awesome winter vegetable much earlier than I did!
Easy Roasted Asparagus
Yield: 4
Easy Roasted Asparagus
I learned how to make this easy roasted asparagus recipe from a caterer, and it was an instant hit. With only a few ingredients, it's fast to make & delicious.
Ingredients
1 pound asparagus spears
Extra virgin olive oil
1/2 to 1 tsp Montreal steak seasoning
1/2 lemon
Instructions
Preheat oven to 425.
Trim the woody stems off the asparagus. (I prefer to snap them off, but you can use a knife if you prefer.
Lay asparagus on a baking sheet, making sure the stalks are not too crowded.
Drizzle with extra virgin olive oil and then roll asparagus stalks back and forth in the oil to coat.
Sprinkle generously with Montreal Steak Seasoning. Use closer to 1/2 teaspoon if you don't like spicy foods.
Roast asparagus in the preheated oven for 3 to 5 minutes. Cooking time will vary depending on the thickness of your asparagus. You should be able to just pierce your stalks with a fork, but they shouldn't be mushy.
Squeeze fresh lemon juice over the asparagus when you remove the stalks from the oven. Serve immediately.
Nutrition Information:
Yield:
4
Serving Size:
1 grams
Amount Per Serving:
Unsaturated Fat:

0g
Do you have a favorite roasted asparagus recipe?
Subscribe via
Bloglovin, Facebook, and Twitter
to get more updates!
SaveSave
SaveSave
SaveSave
SaveSave