I look at a lot of blogs on a regular basis…especially blogs that are all about design.  I may often be deficient in executing many of my design ideas, but I just can't seem to tire of looking at all the pretty things.  There are a few trends I've seen a LOT lately that I think might be here to stay…at least for 2015.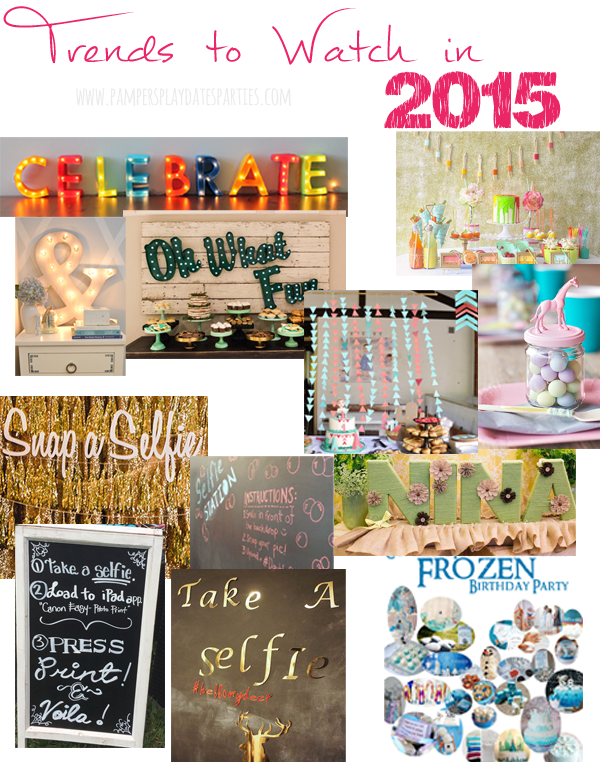 Marquee Letters
I know this trend has been around for a couple years now, and it seems to be picking up steam.  Is anyone else tired of those inspirational quotes around the house?  Try putting your name in lights or just play with special characters like that ampersand.  (Image Sources: Brit + Co, Kara's Party Ideas, The DIY Playbook)
Pastels
Bright and vibrant colors have always been popular for kids parties.  But I'm seeing a lot more pastel tones popping up these days.  The soft palette is especially fresh and pretty in the Springtime, but can be used all year round. (Image Sources: HWTM, Celebrations at Home, Kara's Party Ideas, Kara's Party Ideas)
Selfie Stations
A few years ago, photo booths were all the rage.  But those were difficult to manage and often got expensive.  But with Instagram's booming popularity, it seems like everyone knows how to take a selfie these days.  I love the idea of having a ready backdrop and party hashtag so you can track all your friends' pictures (Image Sources: Margaux Caniato on Pinterest, Kara's Party Ideas, via I Heart Sugar Sugar on Pinterest, Inspired by This)
Frozen
Yes, adults are all sick of it.  No, children are not. That said, I believe that there may be more fun twists on the theme this year that are a little less overt.  I can't wait to see the creative ways that Frozen is incorporated into parties in fun and subtle ways.  (Check out the post I did full of inspiration for a Frozen themed party)
What are your favorite design trends this year?


P.S. – Don't forget to check out my Twitter feed today to see this week's #FridayFive picks!
Sharing over at: Link Party Palooza & Flaunt it Friday

Subscribe via Bloglovin, Facebook, and Twitter to get more updates!