Learn how to grill a turkey on a charcoal grill even if you have a big turkey! The smokey flavor is fantastic for your holiday dinner & amazing in leftovers. Yum!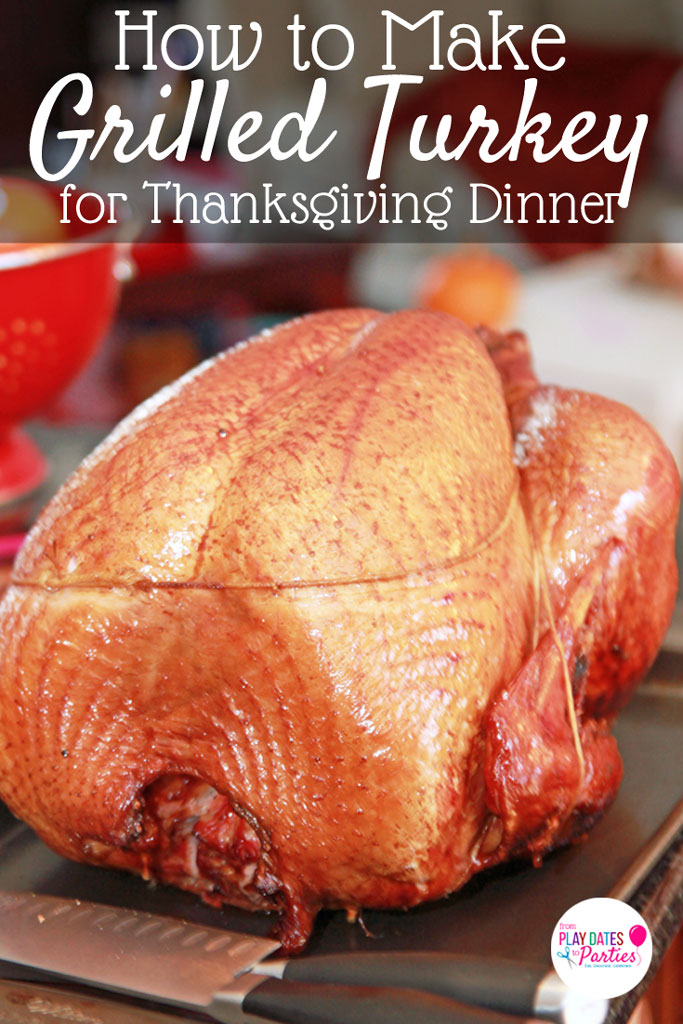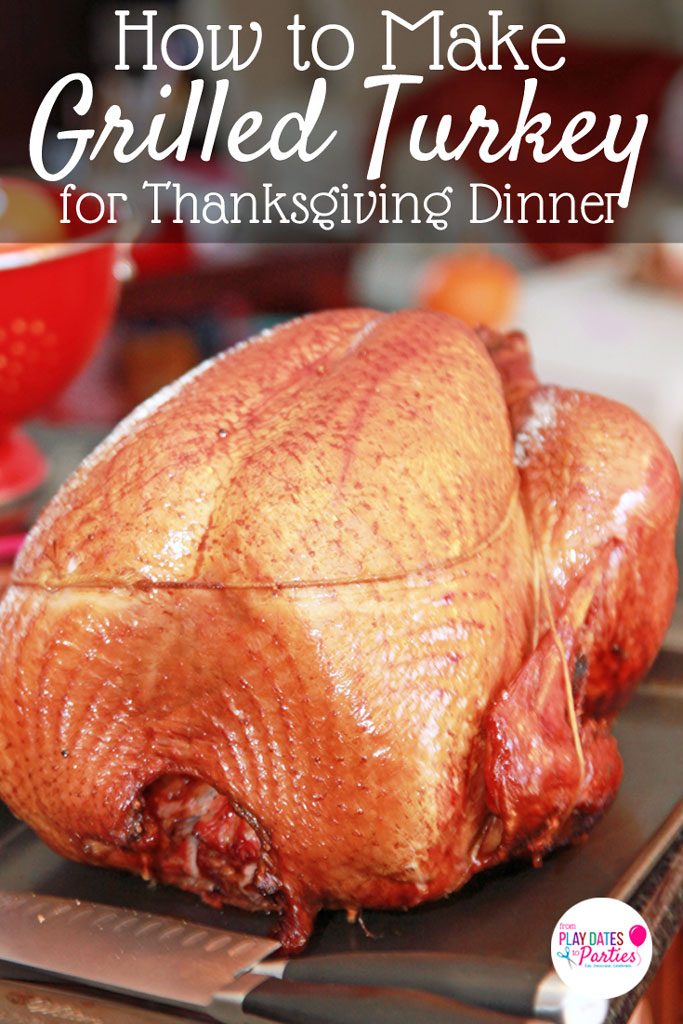 This post was nearly titled "How I spent $200 on a Thanksgiving turkey".
Thankfully, it's more like "How I avoided spending $200 just to smoke a turkey on a charcoal grill."
For years I wanted to cook Thanksgiving turkey on the grill. It makes so much sense, doesn't it? Grilling a turkey keeps the oven free for keeping side dishes warm and grilled meat always has an extra layer of flavor that can't be beat.
Unfortunately, we only had a gas grill with spotty temperatures.
But then invested in a Weber charcoal kettle a couple years ago and last year I finally got to learn how to grill a turkey on a charcoal grill for Thanksgiving dinner.
We started by calling a local turkey farm to order our 12-pound bird for Thanksgiving day. With limited space inside the grill, we figured we couldn't handle anything much larger, and we were only having 5 adults at our Thanksgiving dinner anyway.
You know what they say about the best laid plans, right?
When the Husband went to pick up our lovely 12-pound bird, he found instead that we ended up with a large 18-pound turkey.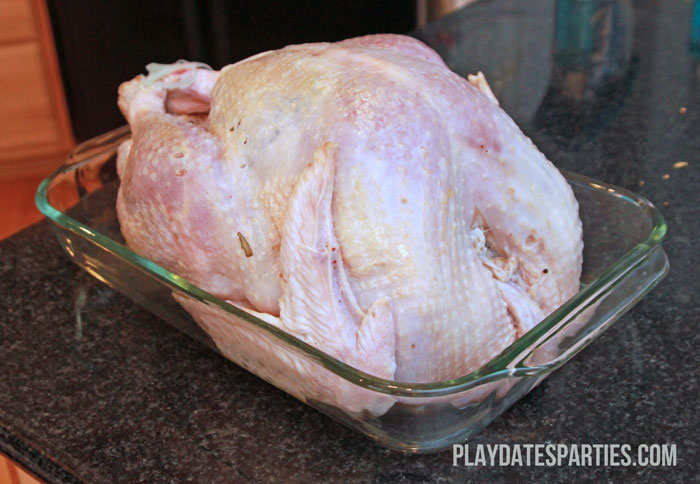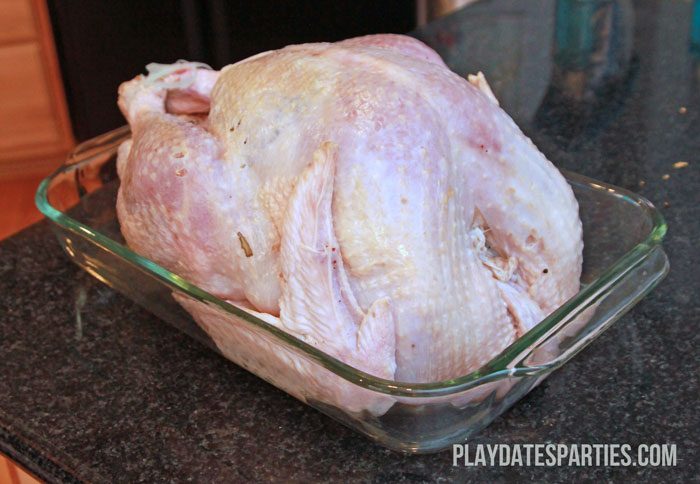 That bird was huge. There's no way that turkey was going to fit inside our grill. The Husband was convinced that we had to bake the turkey after all.
But I was not to be deterred. Our entire Thanksgiving timeline and menu was planned around having a grilled turkey and I was determined to figure out how to grill a turkey on a charcoal grill – even if that blasted bird was too fit for the grill itself!
That's when the husband recommended buying a Rotisserie Grilling kit on Amazon. And since Thanksgiving was so close, we would need to splurge for next day shipping. Our super-sized organic turkey wasn't cheap, and adding the rotisserie kit would increase the price of our Thanksgiving turkey to more than $200! I just couldn't stomach the thought.
Then I had a brilliant…but risky idea.
[clickToTweet tweet="Find out how we smoked a gigantic turkey on a Charcoal #Grill for #Thanksgiving! #recipes via @PlayDatesParty" quote="Find out how we smoked a gigantic ? on a Charcoal #Grill for #Thanksgiving! #recipes"]
Back in 2011, I made an awesome rocket ship pizza tray for a party, the nose of which was covered in a small bit of aluminum flashing.
We still had that 10-foot, $10 piece of flashing in storage. Using it between the bottom and top of the grill added plenty of height to fit the jumbo turkey. We took the risk and cooked the turkey with the flashing in place. And it worked!!!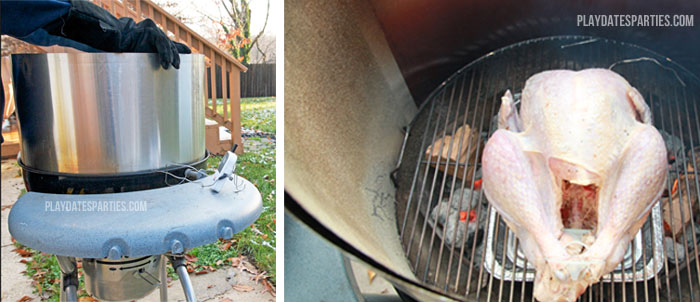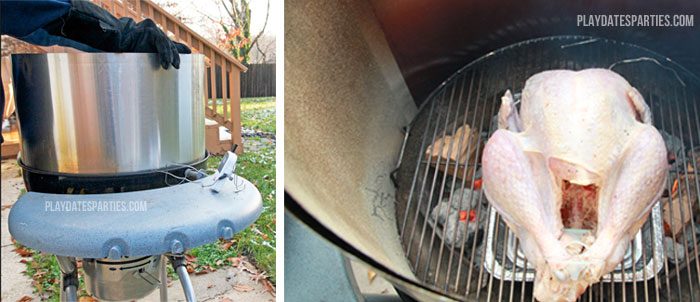 Best of all, it was the best turkey I've ever tasted. And now I get to share with you how we did it!



How to Grill a Turkey on a Charcoal Grill for Thanksgiving Dinner
Don't Forget These Important Materials
Yield: 18
How to Grill a Turkey on a Charcoal Grill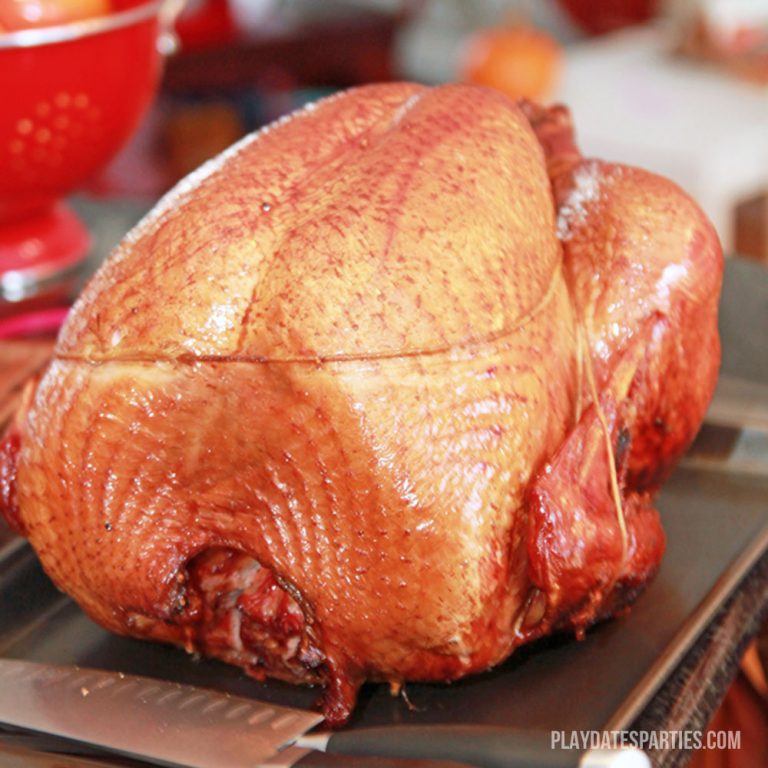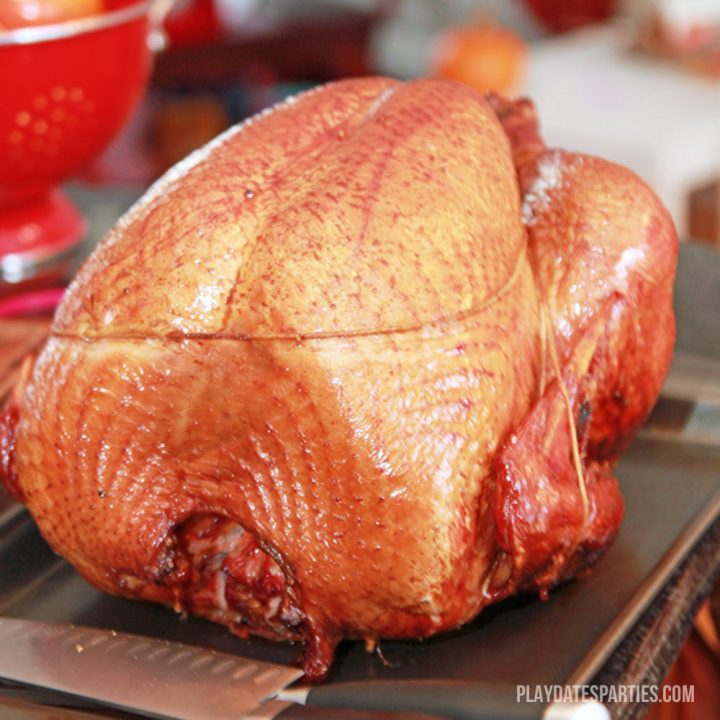 Learn how to grill a turkey on a charcoal grill even if you have a big turkey! The smokey flavor is fantastic for your holiday dinner & amazing in leftovers.
Cook Time
3 hours
20 minutes
Total Time
4 hours
20 minutes
Ingredients
Prepared turkey
Charcoal
Chimney Starter
Canola Oil
Wood for smoking, recommend applewood
Remote meat/grilling thermometer
Grilling gloves for protection, we use long gloves for the best protection
Aluminum flashing, about 10 ft long
Instructions
Preparing the Grill:
First thing's first: No lighter fluid. Get a chimney starter. The flavor is so much better.
Despite so many claims that lump charcoal is best, we prefer charcoal briquettes. Lump charcoal is unpredictable and often burns too fast and hot for smoking methods. (We've tested this for over a year now, and the results are pretty consistent)
Don't use wood chips. Big hardwood chunks are great for long-smoking applications. Big chunks don't require soaking and smolder longer. Our experience also indicates that big hardwood chunks impart a stronger smoke flavor to the meat.
Use a remote thermometer to keep track of the temperature of your meat. This way you don't have to let heat and smoke escape just to check temperature.
Place an aluminum pan in the center of the grill to catch fat drippings. This helps to prevent flare-ups and also makes clean up a little bit easier.
Fold a paper towel into a square and use it to lightly oil the grill grates to help avoid sticking.
Grilling the Turkey:
Prepare your charcoal in the chimney starter. Place charcoal inside the grill.
Put the drip pan in the center of the grill, directly on top of the coals.
Put the turkey in the center of the grill, above the drip pan and insert the remote thermometer probe into the turkey breast.
Arrange the aluminum flashing around the perimeter of the grill, between the grate and the sides of the grill. Place the lid of the grill on top of the flashing. Don't worry, the flashing is strong enough to hold it up.
Replace the coals about once an hour, or as needed, aiming to keep the grill below 300 F. Always wear protective gloves to remove the flashing during this process.
When the remote thermometer reads 165 degrees Fahrenheit, the turkey is ready to remove from the grill. Grilling times will depend on the size of your turkey and the heat from your grill. (Our 18-pound turkey cooked in about 3.5 hours)
Let the turkey rest for 15-20 minutes before carving.
Notes
Sadly, you won't get a lot of drippings from the turkey with this method. Plan another base for your Thanksgiving gravy.
We tried this technique again with a smaller turkey, and found that the flashing had warped from using it last year. This meant that we ended up with extremely high grilling temperatures. Thankfully a 15 pound turkey fit under the grill lid with no problems. The flashing method worked perfectly for us the first time, but be sure you're prepared with a backup plan.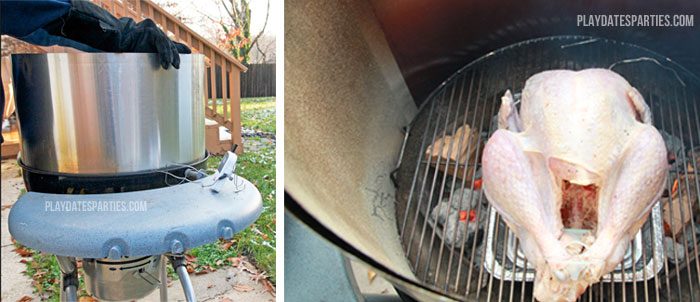 Nutrition Information:
Yield:
18
Serving Size:
1 grams
Amount Per Serving:
Unsaturated Fat:

0g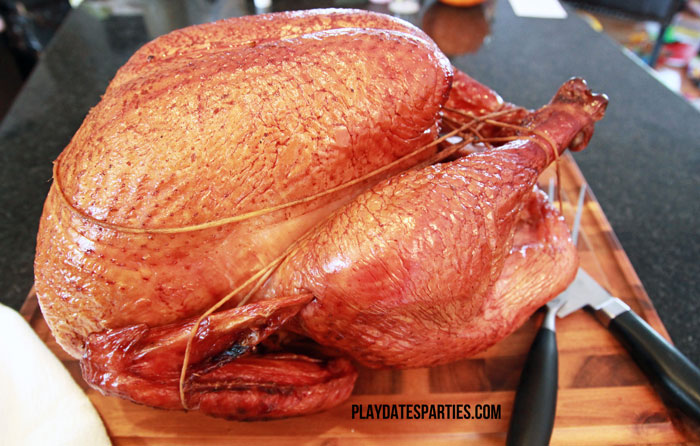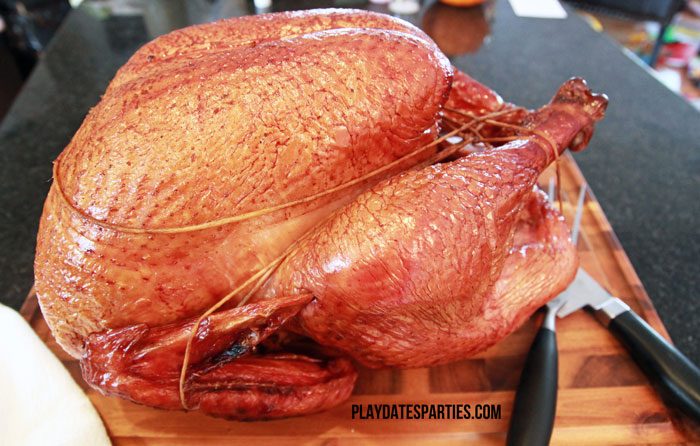 Now It's Your Turn
Keep your oven and crockpot clear for the side dishes this Thanksgiving and follow these directions for how to grill a turkey on a charcoal grill. This easy recipe makes the perfect turkey with tender, juicy meat that is amazing for leftovers. You'll never want to make Thanksgiving turkey in the oven again.
What's the biggest thing you've ever grilled?
What's the best turkey preparation you've ever had?
Subscribe via
Bloglovin, Facebook, and Twitter
to get more updates!
SaveSave
SaveSave
SaveSave
SaveSave