Ginger cookies with molasses are always on our holiday 'must bake' list. And for good reason – a good ginger cookies recipe is bursting with warm holiday spices with far less work than rolled and cut gingerbread men.
Join me as I share with you some of my secrets to making the best ginger cookies you'll ever have!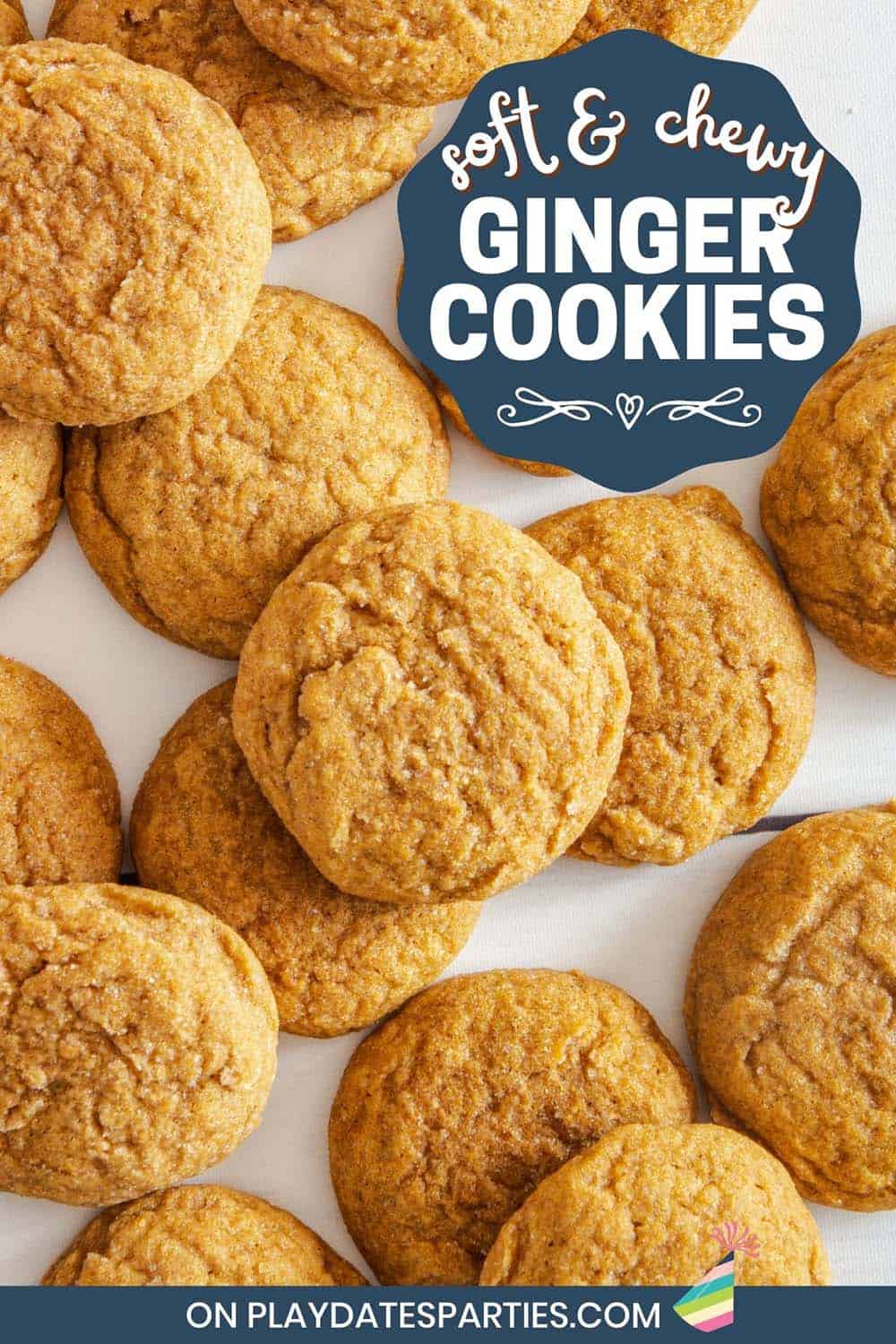 What Makes these Ginger Cookies so Special
Ginger molasses cookies are melt in your mouth soft, with just enough chewiness to them.
They're full of all your favorite holiday gingerbread spices, with less work than rolled and decorated cookies.
All those spices make your home smell amazing as the ginger cookies bake.
This is the perfect recipe for baking with your kids. They love to add the ingredients, and stir the dough. But most of all they love scooping and rolling!
What You'll Need:
Ingredients:
All-Purpose Flour
Cake flour
Ground ginger
Baking soda
Ground cinnamon
Ground cloves
Salt
Unsalted butter, softened
Granulated sugar
Egg
Grand marnier
Molasses
Supplies:
2 large mixing bowls
Measuring cups and spoons
Whisk
Stand mixer with paddle attachment or hand mixer
Spatula or mixing spoon
Flat bottomed drinking cup or measuring cup
Cookie sheet
Optional: Cookie scoop
A Few Notes about the Ingredients:
Cake flour is a lower protein flour that's finely milled, giving you a softer, fluffier cookie.
Make sure your butter is softened to room temperature. It should be soft enough to stir with a spoon, but not melted.
Unsulphered Molasses doesn't only make the cookies nice and chewy, it also adds a richness to the flavor that is vital to this recipe.
Grand Marnier is an unusual addition to ginger cookies, but the subtle orange flavor helps to bring out all those delicious spices.
Step-by-Step Directions:
To make things even easier for you, I created a simple photo guide below. For all measurements and a more detailed guide, check out the recipe card at the bottom of this page.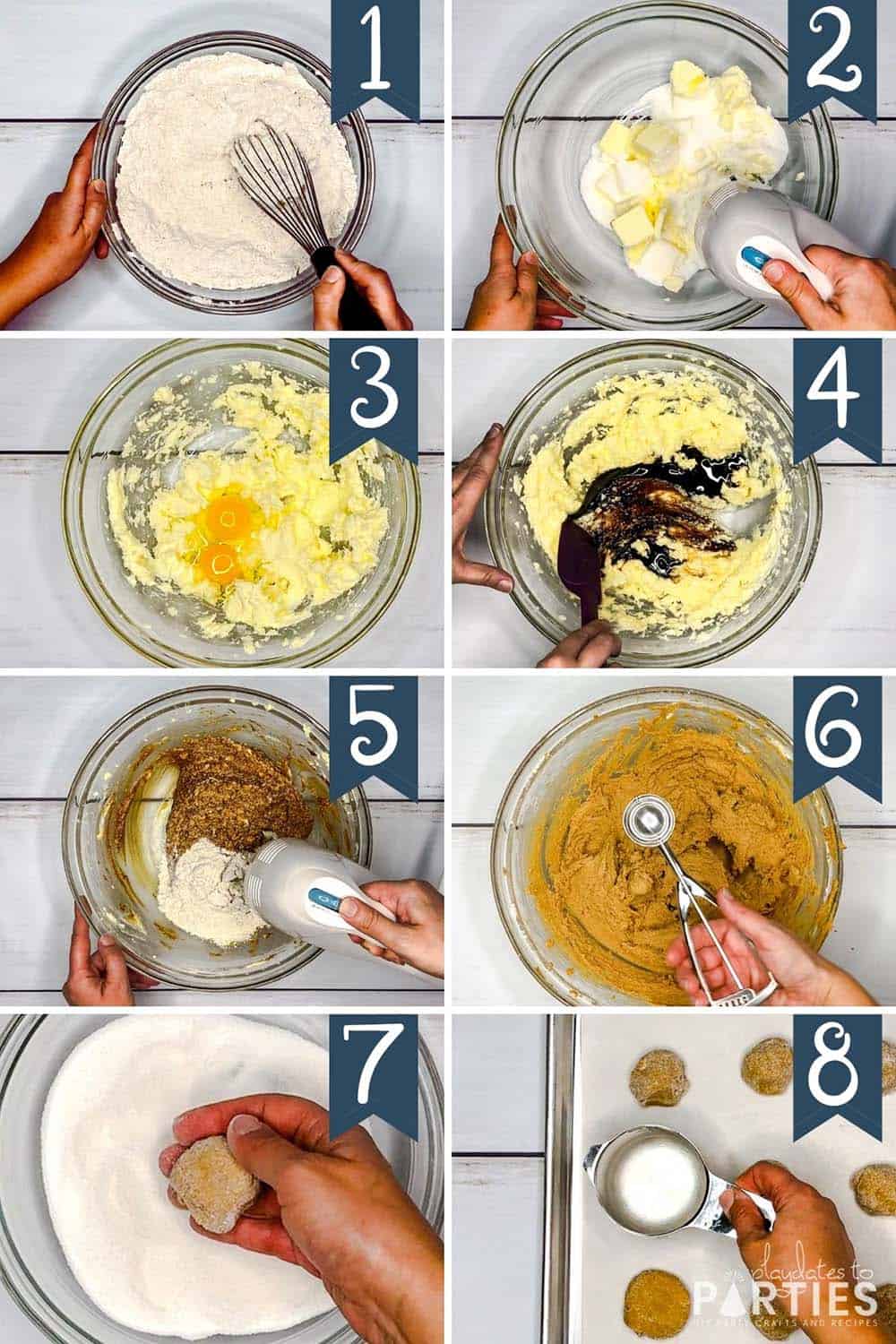 Step 1 – Whisk together the dry ingredients
Step 2 – Cream together the butter and sugar
Step 4 – Stir in the molasses and Grand Marnier
Step 5 – Combine the wet and dry ingredients.
Step 6 – Scoop the dough into balls.
Step 7 – Roll the dough balls in the granulated sugar.
Step 8 – Flatten slightly then bake to perfection.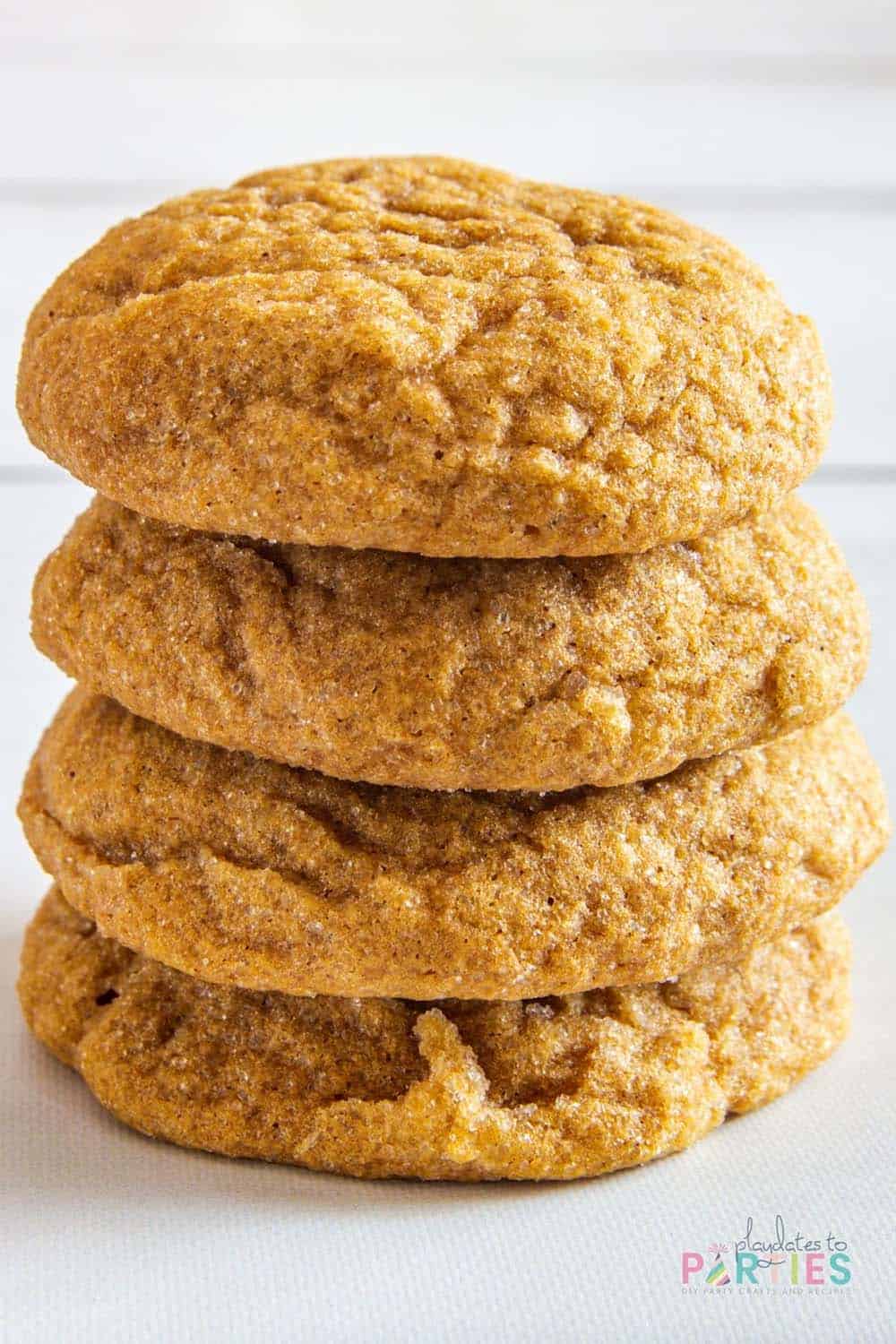 Essential Tips and FAQs:
Don't skip these tips – read them before baking to avoid any potential mistakes.
Use a cookie scoop
I know, it seems like such a unitasker and a waste of space. But I love my cookie scoop set. We use scoops to measure out ice cream, muffin and cupcake batter, and even meatballs (when I feel like going to the effort to make them from scratch.)
The best thing about a scoop set is that they keep the cookies evenly sized. This means that your cookies will bake as evenly as possible your oven, so you won't end up with one cookie that's underbaked and one that's a crumbly mess.
(And yes, I've used measuring spoons to achieve the same purpose. But not only is it much harder to release the dough, I found the results are still inconsistent.)
Which Kind of Mixer is Best?
These cookies are definitely best when the butter and sugar are creamed together with a mixer…and also a lot easier on your arms.
I generally prefer to use my KitchenAid stand mixer fitted with the paddle attachment. But as you see above, I used a hand mixer this time with delicious results.
Be prepared to get messy
The dough for these cookies can be pretty sticky, so if you're rolling by hand, it's good to have a damp towel available to wipe your hands while you're rolling the cookies.
Alternatively, you can also refrigerate the dough for about 20 minutes before rolling to reduce the stickiness.
Giving these away as gifts?
These cookies are so soft, you'll want to make sure to put them in a cookie tin or another container to protect them.
Don't forget to add a cute printable tag to your tin so everyone will know that you made these amazing cookies.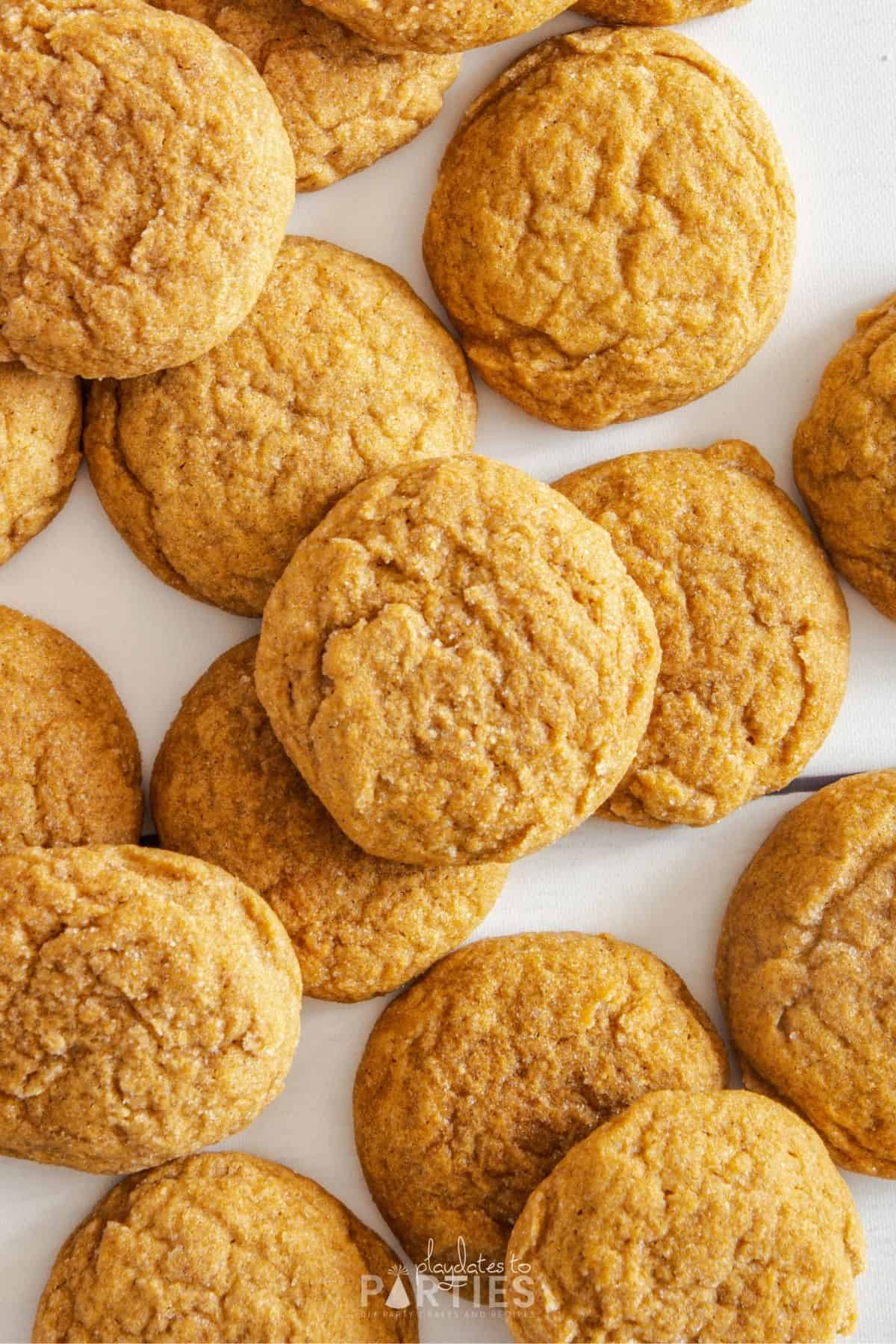 Substitutions and Adaptations:
Baking may be a science, but there's still some wiggle room. Here are some changes you can try without completely ruining the cookies:
Cake flour: You can substitute all purpose flour for the cake flour in this recipe, but the cookies won't be as soft. Otherwise you can also try this cake flour substitute, though I haven't personally tested it yet. (I'll let you know if I do)
Baking soda: In a pinch, you can substitute 3 teaspoons baking powder for each teaspoon of baking soda.
Unsalted butter: You can substitute salted butter for unsalted butter, but you should plan to reduce the salt in the recipe down to 1/2 teaspoon
Ginger: I don't recommend substituting the ginger in these cookies. But if you want your cookies to have more bite, you can increase the ginger up to 8 teaspoons.
Cayenne Pepper: If you really want your cookies to have a kick, add a tiny pinch of cayenne pepper to your dry ingredients.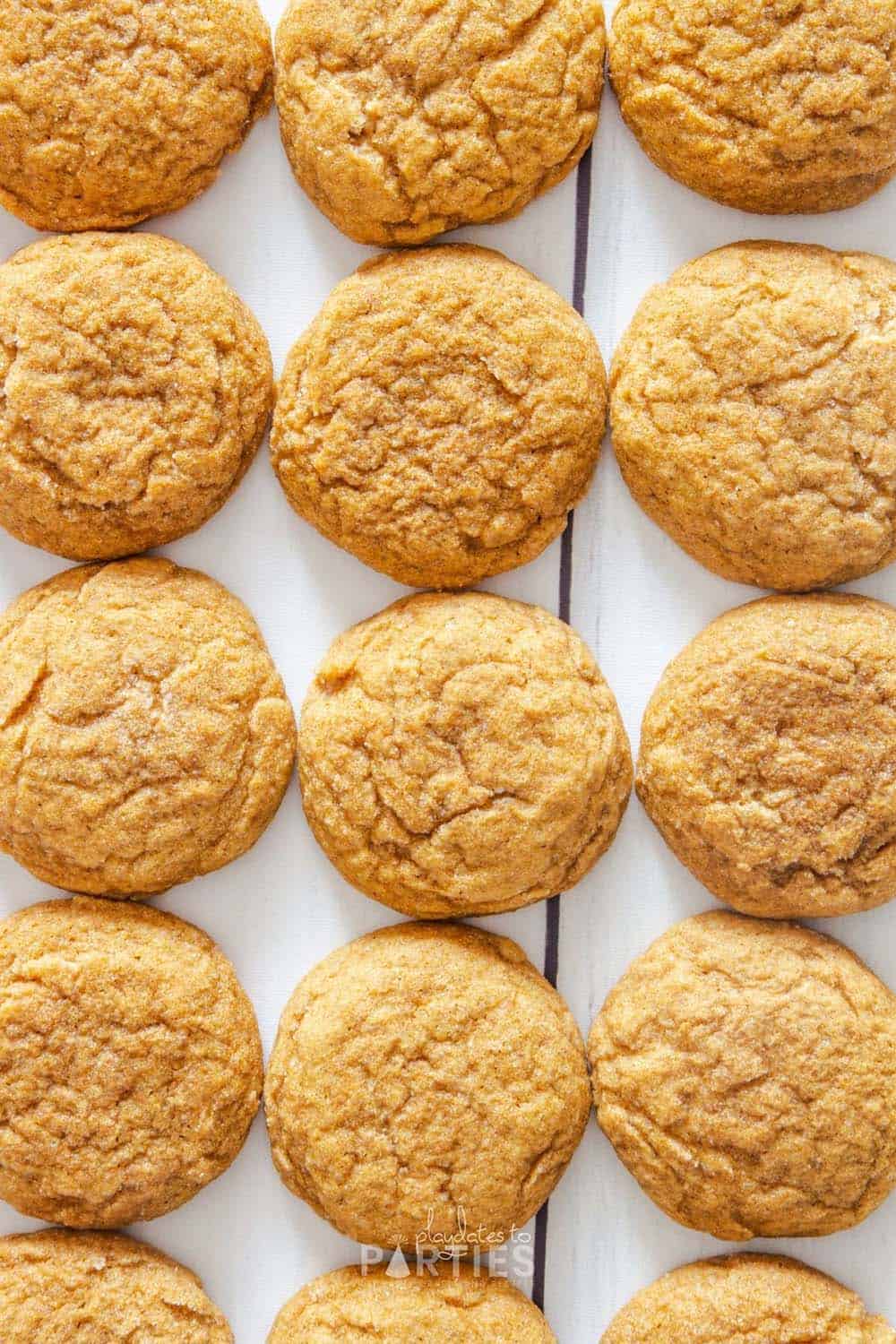 If you liked these soft and chewy ginger cookies, you're going to love my double chocolate chip cookies. The base dough is incredibly flavorful, but I also have 2 adaptations you can use to make 3 kinds of cookies with half the work.
Or you can check out my other Christmas cookie recipes here.
Yield: 60 cookies
Soft and Chewy Ginger Cookies with Molasses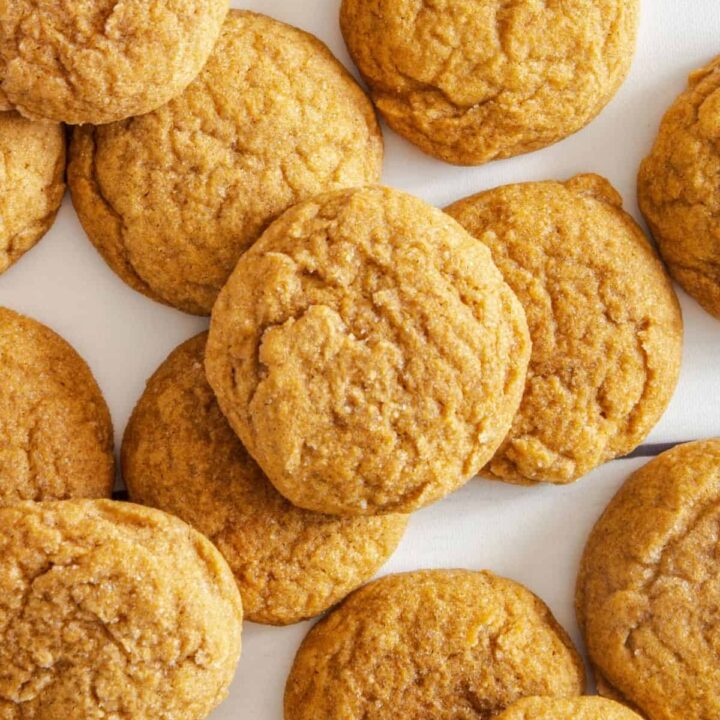 Get your oven ready! Make and extra large batch of these ginger cookies with molasses that are melt in your mouth soft with just the right amount of chewiness. They'll be your new holiday favorite.
Ingredients
2.5 cups All-Purpose Flour
2 cups cake flour
4 teaspoons ground ginger
2 teaspoons baking soda
1.5 teaspoons ground cinnamon
1 teaspoon ground cloves
1 teaspoon salt
1.5 cups unsalted butter, softened
2 cups granulated sugar
2 eggs
2 tablespoons Grand Marnier
1/2 cup molasses
2/3 cup granulated sugar for rolling
Instructions
Preheat oven 350F. Preheat your oven 350˚F. Prepare a cookie sheet with parchment paper.
In a large bowl whisk together 2.5 cups all purpose flour, 2 cups cake flour, 4 teaspoons ginger, 2 teaspoons baking soda, 1.5 teaspoons ground cinnamon, 1 teaspoon cloves, and 1 teaspoon salt. Set aside.
Using a mixer, cream together 1.5 cups unsalted butter and 2 cups sugar until light and fluffy.
Add the eggs and beat until just combined.
Stir 1/2 cup molasses and 2 tablespoons Grand Marnier into the wet ingredients.
Add 1/3 of the dry ingredients into the wet ingredients, stirring by hand. Repeat until all the dry ingredients are incorporated.
Use a cookie scoop to measure out even sized dough balls.
Roll the dough balls in a small bowl filled with 2/3 cup granulated sugar.
Place the rolled cookies 2 inches apart on a prepared cookie sheet. Flatten slightly with the bottom of a glass or a flat bottomed measuring cup.
Bake at 350˚F for 8 to 10 minutes. Allow cookies to cool on baking sheet for 5 minutes before removing to a wire rack or cool plate.
Notes
Remember, the step-by-step photos and FAQ in the recipe post are there to help you if you feel stuck at any point.
You can use either a stand mixer fitted with a paddle attachment or a hand mixer to cream together the butter and sugar.
A second sheet of parchment paper on your work surface is the perfect place to put your cookie balls while you get them all scooped out.
You can use a tablespoon measure to scoop out your cookie dough, but a cookie scoop is definitely best.
If you're rolling by hand instead of a cookie scoop, you may want to refrigerate the dough for 20 minutes first to make it less sticky.
For cookie exchanges, favors, or gifts: Place the cookies in a box or cookie tin, and add a pretty tag. Easy peasy.
Recommended Products
As an Amazon Associate and member of other affiliate programs, I earn from qualifying purchases.
Nutrition Information:
Yield:
60
Serving Size:
1 cookie
Amount Per Serving:
Calories:

122
Total Fat:

5g
Saturated Fat:

3g
Trans Fat:

0g
Unsaturated Fat:

2g
Cholesterol:

18mg
Sodium:

82mg
Carbohydrates:

19g
Fiber:

0g
Sugar:

11g
Protein:

1g
__________________________________ The nutrition information provided above is estimated using an automated calculation system. Actual nutrition will vary depending on brand and measurements used in your recipe. To obtain the most accurate representation of the nutrition information for any given recipe, you should calculate the nutritional information using the actual ingredients you used in your recipe.
---
This post was originally published on December 16, 2014. It has been updated with new photos, FAQs, and substitutions.